Date(s) :
November 19, 2020 6:00 pm
The travel industry has faced unparalleled challenges in 2020, but there is a path forward for recovery. Join Koddi and Google in this free webinar to learn about the five phases of travel recovery, how consumer behavior has shifted during the pandemic, and how to prepare for 2021.
In this webinar on November 19th, experts from both companies will discuss regional hotel demand trends, how consumer behavior has changed during the pandemic, and how to plan ahead for recovery in the new year.
Date(s) :
November 19, 2020 6:00 pm
By :
Female Entrepreneurs Worldwide (Greater China)
For :
Female Tourism Professionals
Join us to find out how to plan your business growth and get a head start post-COVID! #AskFEWAnything Livestream has the answers!

About this Event

Meet our expert, Sylvia Nguyen.

Get to ask an industry leader, Sylvia Nguyen. She expanded the world's international hotel brands into Vietnam. Leading the biggest real estate and hospitality developing Marriot Hotels in Vietnam, Sylvia opened two hotels in Danang in the past year with four more in the pipeline for 2020 and twelve under development and designing stage.

This Thursday, we'll know how the most affected industry of the pandemic prepares for business post-COVID!

Hint: it's all about resilience!

Tune into our livestream and meet award-winning tourism industry leader, Sylvia Nguyen. As the property developer of Marriott Hotels in Vietnam, Sylvia leads the biggest real estate and hospitality chain in the country.

Join us to find out how to plan your business growth and get a head start post-COVID! See you there!

ABOUT #AskFEWAnything

Welcome to #AskFEWAnything – a series of online mentoring sessions exclusively for the FEW community!

Every Thursday, we are giving you a chance to learn from industry leaders & experts who managed to go beyond success and wealth, turning their businesses into international brands.

All successful leaders have mentors. So should you!

Check out our event calendar to find upcoming #AskFEWAnything sessions: https://few.community/askfewanything
Date(s) :
November 19, 2020 8:00 pm
About this Event

Back in Jul this year, we spoke with Karsten Wildberger, MBA'00J, COO and board member at E.ON, on his experience on driving AI implementation in the energy sector, and Kay Firth-Butterfield, Professor of Law and Head of Artificial Intelligence and Machine Learning at the World Economic Forum, to discuss the work of the WEF on AI for boards and governance.

In general, we discussed ways individual businesses need to implement AI across their processes, products and services, while balancing productivity with responsibility.

This, in effect, involves tackling issues like the organisation's data readiness, finding and developing the right talent, designing and driving its AI journey, and managing new risks (e.g. discrimination, unethical behaviour of AI, even jobs and health risks) and its organisational changes associated with disruptive technology.

This time, we would like to go deeper into one of the most fundamental challenges or first steps when considering an AI or Digital Transformation journey for your organisation – how to "Get data-ready for Digital Transformation" by using Stena Line as a Case Study.

About Stena Line

Stena Line is the world´s leading passenger ferry company, with 19 ferry routes, 6 geographical divisions, 39 passenger ships, 28,000 sailings per annum (7M passengers, 2M private cars & 2M freight units) operated across 10 European markets, turnover of 1.2B EUR, and 6,000 employees across Sweden, Norway, Denmark, Poland, Netherlands, Lithuania, North Ireland, Republic of Ireland, Germany & the UK.

In addition to being on top of the ferry sector, Stena Line also runs one of the largest travel companies in the Nordics – Stena Line Travel Group AB, with 120M EUR in turnover as well as a major shipping agency in retail and food services in Sweden with more than 80M EUR in turnover.

Stena Line's Digital Transformation Journey

Stena Line went through a major organisational change in Sep 2016 triggered by this "shift towards digitalization". As the company's Chief Transformation Officer and a member of the executive board, Jari Virtanen has been driving and orchestrating the overall change program towards Stena Line's digital vision of becoming the world´s first cognitive ferry company by maximizing and leveraging the use of technologies such as Artificial Intelligence, Internet of Things, Robotics and Machine Learning across the entire organisation.

However, embarking on such a "digital-first" journey involves a lot of challenges when it comes to collecting and processing data, and more importantly, the right kinds of data and variables. In this webinar, we would like to hear more from him on the typical challenges that he has faced in his journey.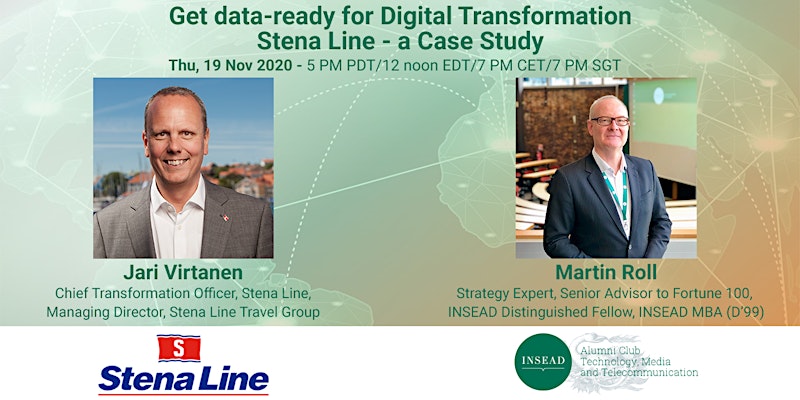 Webinar Details:
Date: 19 Nov, 2020
Time: 5 PM PDT/12 noon EDT/7 PM CET/7 PM SGT.
Note that the webinar will be held on 4 different slots to cater to our global alumni, you may choose to register on any 1 of them.
All time slots on Eventbrite are in UTC (GMT), so please ensure to select the correct one based on your own time zone.
About the Speakers
Jari Virtanen
Chief Transformation Officer, Stena Line,
Managing Director, Stena Line Travel Group,
ex- Chief Commercial Officer, Stena Line
Jari Virtanen was born on the Swedish speaking west coast of Finland, raised by parents that could be categorized as notorious entrepreneurs. After his studies, he decided to explore the world by working within the tourism industry in a number of countries like Cyprus, Egypt, Greece & Spain, before ending up in Stockholm, working for the largest tourism company in the world (TUI) in several leadership positions. Jari also served as Managing Director for the largest Nordic tourism region, the autonomous Åland Islands. A few years later, as an entrepreneur & Managing Director, he built one of the fastest growing travel companies in Sweden (Sembo), which, in 2008, was sold to Stena Line, the largest ferry operator in the world. He has extensive experience within B2C Sales & Marketing serving as Stena Line's Chief Commercial Officer and later as a change leader in his current position as the company's Chief Transformation Officer, leading Stena Line's overall and highly ambitious digital transformation program, aiming at being the world´s first cognitive ferry company. He is also the Managing Director of the company's Tour Operating & Travel Agency division, Stena Line Travel Group. Stena Line has around 6000 dedicated employees in ten markets and a turnover of 14 billion SEK. Jari is also a member of the board in a number of companies in North Europe as well as in the Swedish Travel Agency & Tour Operating Association. He has also formerly served as a Chairman of the Board in the Swedish Passenger Shipping Association.
Martin Roll
Senior Advisor to Fortune 100, Asian Firms, Family Businesses & Family Offices
Strategy, Leadership & Transformation Expert, INSEAD Distinguished Fellow
Martin Roll is an experienced global business strategist, senior advisor and facilitator to Fortune 500 companies, Asian firms and family-owned businesses. He advises clients on how to build and manage strong global brands, as well as leadership of high-performing, marketing-oriented businesses.
Martin Roll is CEO of Martin Roll Company with more than 25 years of board & C-suite counselling experience. He is an advisor to several global boards and prominent business families, and a mentor for next generation leaders in business families, start-ups and high- growth companies.
Martin Roll has been a Senior Advisor to McKinsey & Company.
Martin Roll is a highly accomplished keynote speaker at global conferences, an experienced conference moderator and executive workshop facilitator.
He is a Distinguished Fellow (family business) and Entrepreneur in Residence at INSEAD.
He teaches MBA, EMBA and Executive Education programs at INSEAD, CEIBS and Nanyang Business School and is a frequent guest lecturer at ESSEC, IE Business School, Wharton, Harvard and other leading business schools.
Martin Roll is a Visiting Professor at China Europe International Business School (CEIBS) teaching courses in family business. He has been teaching luxury brand management and strategy at the LVMH Management Academy (Singapore Management University, SMU).
Martin Roll is faculty and keynote speaker at The Harvard Project for Asian and International Relations (HPAIR) – a student-run organization of Harvard University. He is a member of the HPAIR Board of Advisors.
Martin Roll is lecturer and keynote speaker at The Academies by Harvard Student Agencies. He has been an Associate Fellow at The Institute on Asian Consumer Insight (ACI).
Martin Roll is a member of the global Advisory Council of Welspun Group (Mumbai), a Senior Advisor to early-stage venture fund Cocoon Capital (Singapore) and a Senior Advisor to Superson (Finland and Singapore).
He is the author of global bestseller "Asian Brand Strategy" (2015) and co-author of "The Future of Branding" (2016) with two new books in the pipeline on Family Business Strategy (2020) and Family Office Strategy (2021).
Columnist for INSEAD Knowledge and regular commentator in global media.
Martin Roll has lived in Asia for two decades and serve clients on all continents. He holds an MBA from INSEAD.
Specialties: Branding, Marketing, Strategy, Leadership, Digital, Digital Transformation, Change & Transformation, Family Business, Family Office, C-suite Mentoring, Turnarounds, Business Coaching, Asia & Emerging Markets, China, India, Business Models, Retail, Luxury, Private Equity, Venture capital, Entrepreneurship, Innovation & Start-Ups.
Date(s) :
November 17, 2020 1:00 pm
For :
Cultural Tourism Professionals
(September-November 2020) ICOMOS Webinar Series: Cultural heritage solutions for water challenges

ICOMOS, acronym of International Council on Monuments and Sites, is an international non-governmental organisation of heritage professionals engaged in the conservation of places of cultural value and dedicated to the conservation of the world's historic monuments and sites. ICOMOS was founded in 1965 following the adoption of the International Charter for the Conservation and Restoration of Monuments and Sites – generally referred to as The Venice Charter (1964).

The overall aim of the webinar series is to inform water professionals and heritage experts about the Water and Heritage initiative and its activities that aim at recognition by water managers that water related heritage can contribute significantly toward water challenges. The specific objective of the webinars is to encourage national working groups to be initiated with the longer-term objective to mobilize support to have Water and Heritage discussed at the UN International Water conference to be held in New York in 2023, see the Chair's Statement of the symposium 'Water and Culture' held on February 3 in Tokyo.

Webinar 3: Telling examples and assessment methodologies Speakers & Sessions:

Opening and Welcome: Henk van Schaik (Ambassador, Water & Heritage, ICOMOS Netherlands)
The International Scientific Committee on Water & Heritage (ISCWH): Ian Travers (ICOMOS Australia; Chair, ISCWH Task Force)
The World Water Forum: Sergio Riberio, CIRAT
Examples of water-related heritage for water management challenges of today and tomorrow: Sunite Yu, TIIWE, Taiwan
Significance of the ancient Spate Irrigation systems for contemporary water challenges:  Karim Nawaz, MetaMeta
Water Heritage Management as Asset Management: Maarten Ouboter, WaterNet Amsterdam
UNESCO's Historic Urban Landscape Methodology as applied in India:  Nupur Prothi Khanna (ICOMOS India)
Hydrobiography: Hans Bleumink
The concept of 'Drinkable Rivers': Li An Phoa, Drinkable Rivers
Discussion: Cases and Methodologies
Conclusions and Next Steps
Date(s) :
November 17, 2020 6:00 pm
About the Webinar

The pandemic has not dampened the importance of sustainability—in fact, it's highlighted just how intertwined human health is with the health of our planet. As consumers and businesses become more conscious of their environmental impact coming out of the pandemic, hotels will need to plan for a new normal in travel that embraces sustainability along with good hygiene practices.

In this webinar, experts from Green Key, Innovation Lighthouse, and Arthur Hotels will join Pegasus for an in-depth discussion on hotel sustainability in the age of COVID-19. Participants will learn:

Why sustainability is as important as ever, even in a pandemic, and how hotels can use it to distinguish themselves from the competition
Tested and proven sustainability interventions that help hotels save substantial water and energy and reduce operational costs
How to use simple behavioral insights for more sustainable hotel guest stays
Why and how to approach sustainability certification, and how other hotels have achieved this

TUESDAY, NOV 17, 2020 @ 11:00 ET
Panelists
Finn Bolding Thomsen
Deputy CEO & International Green Key Programme Director
Foundation for Environmental Education
Finn Bolding Thomsen is the International Director of the Green Key programme (voluntary eco-label for 3200+ hotels and other tourism facilities in 60+ countries). He is in charge of developing and coordinating the programme at the international level. This is done through connections to various international stakeholders (UN organisations, international hotel chains, etc.), the Green Key National Operators and the participating establishments. Finn has been working at the Green Key International Director since 2013, but has been working in the Foundation for Environmental Education (the organisation hosting Green Key) since 1998. Finn holds a MSc in Biology from the University of Copenhagen, Denmark.

Kelsey Wilson
Projects Lead
Innovation Lighthouse
Kelsey Wilson grew up in a small town near San Diego, California, where people have a deep love for the ocean & the environment. Sustainability is in her blood, too. She loves all things psychology and has a passion for studying human behavior. She has been working in Europe in these two fields for the past 6 years, in projects from universities to growing companies, like Innovation Lighthouse. Her most exciting work at the moment is implementing a new behavioral framework that the team has built to help building owners crack the code on getting tenants to behave more sustainably.

Alexander Kroeijer
Head of Sales
Arthur Hotels
Alexander Kroeijer has served as Head Of Sales for Arthur Hotels for the last 6 years, planning all sales and strategic efforts as part of the managerial team. He is responsible for more than one third of the total revenue of the hotels. Alexander has 15+ years experience from the hotel industry, including working for the brands Scandic and Hilton. He is very keen to change the way the industry works with sustainability and pushes for implementing new ideas as a small independent chain. Alexander holds a BSC(Hons) from Oxford Brookes University in Hotel & Restaurant Management.
Alexander Ryll
Director Global Corporate Sales, Pegasus
Originating from New Zealand, Alexander moved to Europe and began his hotel career at a 500-bedroom property working in reservations and corporate sales. Further positions followed, including e-commerce and distribution at one of Europe's largest independent hotel representation firms, corporate sales for Germany's largest hotel chain, and revenue management for one of the largest global online travel agents, before returning to work in corporate sales at Pegasus in 2016.  Alexander is a GBTA Hotel Committee member and Membership Ambassador for the Nevada Hotel Lodging Association.
Date(s) :
November 23, 2020 3:00 pm
In this webinar, we'll introduce an inspiring online learning platform, filled with key information on topics such as effective visitor communication, monitoring, conservation through tourism, reducing impacts and much more. It includes interesting European case studies, follow up resources and quizzes. The platform is targeted at anyone with an interest in sustainable tourism in Protected Areas.
Agenda:
Welcome
by Carol Ritchie, EUROPARC Federation
Guided tour on the platform
by Elke Hermans, Hasselt University, coordinator of the Erasmus+ STTfT project
Introduction of the platform containing new and inspiring material on sustainable tourism for protected area stakeholders
Testimonial of a platform user
by Sara Zappini, Terme di Rabbi (IT)
Case studies on Sustainable Tourism in Protected Areas
Gomera Experience: an inspiring tool to promote ecotourism for businesses in La Gomera (Spain)
By Manuel Fernando Martín, Sustainable Tourism Association of La Gomera
Conservation through tourism – Mobilisation of volunteers for the creation and rehabilitation of mountain bike circuits
By Olaf Holm, Parc naturel regional de la Montagne de Reims
Let's talk about it
All participants have the opportunity to exchange on the topics discusses and/or to ask questions.
Announcement "Train the Trainer" Event
Upcoming in 2021: an offer for potential trainers on Sustainable Tourism development in Protected Areas.
Get to know the speakers!
Carol Ritchie is the Executive Director of the EUROPARC Federation. She is responsible for the smooth running of all the Federation Directorate and its work. Carol operates across Europe to represent the Federation's interest and to support the work of the President and Council.
Elke Hermans is professor in tourism and transport at Hasselt University in Belgium. Her teaching and research activities focus on sustainable tourism and transport. She is the coordinator of the Erasmus+ "Sustainable Tourism: Training for Tomorrow" project.
Sara Zappini is the Director of Terme di Rabbi, a thermal and wellness spa in the Stelvio National Park. Health, wellness and nature are her landmarks in managing the Thermae in the Rabbi Valley, which lays at the heart of the National Park.
Manuel Fernando Martín is the Vice president of the Sustainable Tourism Association of La Gomera, which collaborates with the Garajonay National Park and is committed to promoting sustainable tourism on the island.
Olaf Holm is the director of Parc naturel regional de la Montagne de Reims in France. The Park's missions is to aim to protect and enhance its unique landscapes, natural and cultural heritage. Additionally, Olaf is a member of the EUROPARC council.
Date(s) :
November 19, 2020 6:00 pm
Date(s) :
November 19, 2020 4:00 pm
From 1st January, travel between the EU and the UK will be subject to post-transition rules.
What are the UK's destination markets' concerns, and what opportunity do they see in the EU's largest external market? What key issues for them and UK inbound business remain to be resolved? Join us with senior figures from NTOs, DMOs and technical experts to discuss business development and operational issues within the probable tax and regulatory landscape.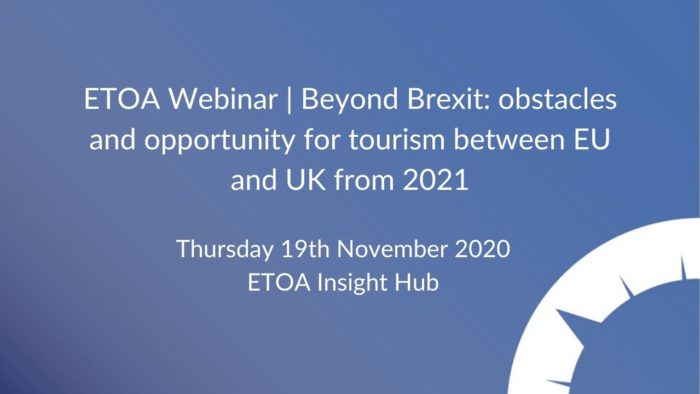 To ensure our speakers can prepare appropriately we will circulate a short survey prior to the event.
Speakers to include:
Luís Araújo – President of Turismo de Portugal, President of European Travel Commission (ETC)
Beatrix Haun – Director, UK and Ireland, Germany National Tourist Office
Niall Gibbons – CEO, Tourism Ireland
Corinne Menegaux – Managing Director, Paris Tourism and Convention Bureau (OTCP)
David Bennett – Partner, ElmanWallBennett, Travel VAT and TOMS consultants
Louisa Cole – Senior Associate, Pinsent Masons LLP Cristina Barba – Transport Department Manager, Special Tours
Simon Smith – Policy Manager, ETOA
Hosted by: Tim Fairhurst and Tom Jenkins, ETOA
Date(s) :
November 17, 2020 8:00 pm
By :
Expedia Group Media Solutions
Maximizing impact on a tightened budget

Capturing the attention of travel shoppers in a busy marketplace can be a challenge, especially when marketing budgets are tight. Sometimes, the best way for travel brands to make an impact is by working together.

Co-Op Campaigns from Expedia Group Media Solutions are an exclusive, collective advertising effort that pools resources from multiple brands to drive shared marketing goals. We help you partner with other advertisers to provide access to large scale, engaging display advertising  products, sophisticated targeting, and a wider reach, to maximize your marketing outcomes.  And, we do all the work for you with our Co-Op marketing solution.

During the webinar, you'll learn how:

to extend and amplify your marketing budget with local partners who have common goals
to target the right travel shoppers using Expedia Group's exclusive travel shopper intent and booking data
travel brands have used Co-Op Campaigns to meet their marketing goals

Date: Tuesday, November 17
Time:  10AM Pacific time
Audience: Appropriate for all travel advertising professionals

Can't attend at this time? Register to receive a recording that you can watch a time that works better for you.

Christine Scarce – Director, Product Marketing, Expedia Group Media Solutions

Christine Scarce leads the product marketing team at Expedia Group Media Solutions, overseeing the go-to-market strategies for the digital advertising products and services across the Expedia Group portfolio of leading travel brands. Her team is responsible for everything from product planning and positioning to marketing strategy to deliver innovative media offerings and reporting for marketing partners.

Christine previously spent seven years at Expedia.com as the senior manager for destination management, where she led product strategy for Expedia.com.

Daniella Moran – Senior Regional Manager, Business Development, Expedia Group Media Solutions

Daniella joined Expedia Group Media Solutions 4 years ago and today leads a team of digital media strategists based in Mexico focused in growing demand to the LATAM region.

She has 13 years of experience in the travel and tourism industry, nine focused in digital marketing and advertising.

Jessica Johns – Senior Regional Manager, Business Development, Expedia Group Media Solutions

Based in San Diego, Jessica currently manages a team for the Media Solutions side of Expedia Group. This team looks after California and other West Coast Destinations. Jessica has been in the travel media space for over 15 years, at organizations like the Los Angeles Times, Lonely Planet and TravelZoo.

She sits on the Board of Directors for CalTravel as Silent Auction Chair and is the Regional Event Chair for the Girl Scouts of San Gorgonio Council. Jessica previously served as the 2014-2017 Los Angeles Chapter President of HSMAI.
Date(s) :
January 26, 2021 9:00 pm
With a crazy 2020 finally coming to a close, it's time to turn our attention to the new year and start planning for a big 2021.
In this webinar, we will share tips on how to create a successful social media content calendar to ensure that you and your hotel are prepared as more people return to travel. We will demonstrate how to leverage different events and holidays on your hotel's social media platforms to increase occupancy and capture more travelers' interest. Register now and make sure your hotel's content calendar is full of effective marketing for your property, no matter the season.
Date(s) :
December 15, 2020 9:00 pm
5… 4… 3… 2… 1… The countdown is on for a Happy New Year!
For some, 2021 cannot come soon enough, as they look for a fresh start and a clean slate. For the hotel industry, 2021 represents a year of hope and recovery. Over the course of 2020, we have learned that hotels can accelerate their pace of recovery by having a strong positive reputation.
In this webinar, we will demonstrate how to prepare for this brand new year by improving your hotel's online reputation. We will explore ways to increase your hotel's reputation rating and ranking and position yourself as the best option for guests looking to jump back into the travel world in 2021. Sign up today to set yourself up for success.
Date(s) :
November 17, 2020 9:00 pm
It's the most wonderful time of the year – a time where most Americans hit the road or skies to visit family and friends.
Although COVID-19 has had an enormous impact on the hotel industry, data projections still expect an influx of travelers this holiday season. In this webinar, we will explore how to attract these leisure travelers to your hotel to help fill rooms and increase occupancy.
Learn social and reputation strategies that will increase your chances of converting reservations during this time of year. Don't miss this opportunity to prepare your hotel for success this busy holiday season!
Date(s) :
December 10, 2020 6:00 pm
Every year, OpenJaw takes a look ahead to the next 12 months to think about the challenges facing Airlines and other travel brands. We get to engage directly with airlines around the world and have found that there are a set of common themes and common challenges that come through during these conversations, and we thought it appropriate to share these insights. Many of these challenges are themes that are similar across all industries, not just aviation. Hopefully, some of these challenges will be thought provoking for you and your leadership teams.
So, how can an airline strategy be created in the face of such constant change?
What are the underlying themes airlines can bet on for the 2020s, regardless of the Pandemic?
Webinar: Finding A Path: Solutions to the Challenges that Travel and Loyalty Brands Face in 2021 is organized by Phocuswire
Date(s) :
November 14, 2020 11:00 pm
By :
Small Community Tourism
Because the CoVID19 pandemic has dramatically reduced the volume of travel worldwide, small communities that formerly had income from tourism have no choice but to function—do business and provide services— differently. This webinar shares new community-based accomplishments in nurturing tourism business conduct, resilience, confidence and codependency, emotional intelligence, and community empowerment to proactively succeed during the current hard times and in the years ahead.
Our panel of experts will focus on tourism and healthcare businesses in small communities. The panelists will discuss the evidence-based guidance that they provide to diverse small communities, each with its own mix of micro-entrepreneurs and businesses. The discussion will result in practical operational and management recommendations. Their responses to questions from webinar participants will further shed light on the effective implementation of community-based strategies for recovery.
Date(s) :
November 12, 2020 12:00 pm
By :
Travel Technology Initiative
For :
Travel Industry Professionals
Travel has arguably suffered more than any other industry as a result of Covid-19, but now it is time to fight back.

A travel industry webinar

All players within the Travel Industry have suffered significantly from the drastic reduction in business brought on by the restrictions introduced by Governments across the globe. The rules that have been imposed are like shifting sands, changing all the time. This has let to considerable consumer uncertainty. Given that travel is a product that is usually bought well in advance of its consumption, this has led to consumers simply not wishing to book for fear of their trips being cancelled.

The Travel Industry has been addressing these fears by, for example, introducing terms of business that allow customers to cancel bookings or re-book for a later date. This has helped but it is only encouraging a small proportion of consumers to make bookings.

Those travel businesses with particularly high fixed costs such as cruise lines and airlines are losing tens of millions of pounds. Businesses with higher variable costs – mostly staff costs – have been able to take advantage of furlough schemes; but with these coming to an end, there are mass redundancies being made across the industry. At the other end of the scale, hospitality businesses such as restaurants have very small margins and struggle at the best of times.

The situation is dire but travel is not taking this lying down. Everything that can be done is being done to fight back, keep our businesses operating and looking forward to a return to normality.

Of course, it is likely that normality will be a new normal. The travel industry may have evolved. Our businesses will be more efficient, our online marketing and operational capability more effective and our competiveness raised.

In this, TTI's Winter Forum, we will examine how the travel industry will fight its way back to normality. This may be as a result of better use of technology, it may be through industry players collaborating – working together for mutual benefit, improved customer acquisition and communication strategies or by operational efficiencies.

Attend this webinar to hear from experts in their fields who will explain what they are doing and what the travel industry can do to fight back.

10:00 Welcome & TTI Update – Tim Wright, Chairman

10:10 The Travel Trade, Trading Smarter – Kelly Cookes, Leisure Director, Advantage Travel Partnership

10:40 Automating Hospitality – Michael Madison, CEO, menumodo

11:10 Coffee Break – Time to check your email and get yourself a coffee.

11:30 The Airline Industry – John Strickland, Director, JLS Consulting

12:00 Teams Collaborating to Drive More Profit – Eddy Swindell, CRO & Co-Founder, Fresh Relevance

12:30 Working Together to Take on the Market – Anthony Beresford, Commercial Director, Beyond Analysis

13:00 Chairman's Summary and Close – Tim Wright, Chairman, TTI

Click this link to download the conference leaflet with detailed agenda.

Moderator: Paul Richer, Genesys Digital Transformation

(TTI reserves the right to change this conference programme due to unforeseen circumstance.)
Date(s) :
November 4, 2020 9:00 am
By :
UNESCO Chair on Digital Cultural Heritage
For :
Tourism Professionals
Our event will focus on the current risks, due to COVID-19 pandemic and future confrontations in the area of Cultural Tourism.

About this Event

The Discovery Europe Workshop will give the opportunity to showcase the local identity as a competitive advantage of the EU Member States, as far as sustainable tourism development is concerned, as well as boost networking among the participants, the exchange of best practices, knowledge and experience on this specific topic.Despite all the risks and challenges, the tourism and culture sectors are facing an opportunity to create new partnerships and collaboration. They are bound to jointly reinvent and diversify the offer, attract new audiences, develop new skills and support the world's transition to the new conditions.Therefore, it is an opportunity to promote sustainable and hybrid tourism driven by new practices and innovations which promote lifelong learning. It is the time and the challenge to reinvent ourselves with vision to build a better tomorrow.
Date(s) :
November 9, 2020 2:00 pm
By :
UN Environment Programme
For :
Tourism Professionals
FREE ONLINE Side event of the Committee on Environmental Policy meeting, organized by UNEP.

About this Event

The tourism sector is one of those hardest hit by the COVID-19 pandemic. Rebuilding tourism is an opportunity for transformation with a focus on building more resilient communities and businesses through innovation, circularity, digitalization, sustainability, and partnerships.

This event will convene European government representatives, tourism institutions and international organisations to explore how sustainable tourism can build back greener towards a more sustainable tourism industry in a post-COVID scenario.

It will provide an overview of the impacts of COVID on the tourism sector and evaluate how stimulus packages and recovery plans could be aligned with a transition that meets health and safety requirements, leads to an inclusive green economy and meets the sustainable development agenda, and climate commitments.

Agenda

13:00 Welcome and introductions Bruno Pozzi, Director of the Europe Office, UNEP

13:05 Setting the scene Dr Anna Spenceley, Chair of the IUCN Tourism and Protected Areas Specialist Group

13:15 Panel session: Sustainable tourism policies and practices during the COVID-19 recovery – needs, tools and benefits:

Moderator: Marika Palosaari, Programme Coordinator, Regional Office for Europe, UNEP

Panelists:

Representative of the Ministry for Ecological Transition, France
Peter Haxton , Policy Analyst, OECD
Sergio Guerreiro, Director, Tourism Portugal
Alina Szasz, Public Manager, Carpathian Sustainable Tourism Center
Tim Fairhurst, Secretary General, European Tourism Association

14:00 – 14:25 Questions and answers session

14:25 – 14:30 Closing remarks

Overview and Background

The causes and consequences of the zoonotic COVID-19 disease highlight the links between tourism and nature. Tourism has helped to conserve nature and protect endangered species but the pandemic and the subsequent closure of natural protected areas has had a destructive impact on the communities responsible for the protected areas.

With its high climate and environmental footprint, the growth of tourism over recent years has put achieving the climate targets of the Paris Agreement at risk. Transport-related greenhouse gas emissions from tourism have been estimated at 5% of all human originated emissions and could rebound sharply if the recovery of the sector is not aligned with climate goals.

The increased health and safety requirements related to the COVID-19 response increase waste generation and water use creating additional pressure in popular destinations where waste and water systems are already under significant stress.

The current planning of recovery and related investments by the public and private actors is critical in steering tourism models into sustainability and capturing opportunities for biodiversity conservation, climate action and circular economy.
Date(s) :
November 4, 2020 12:00 pm
By :
Fife Tourism Partnership
Are you starting out or needing an update on digital marketing but lacking the core skills?

About this Event

This event is part of Fife Business Week.

Learn the key principles of digital marketing and how develop results-focused essential skills using the right tools.

From identifying the right channel to evaluating campaign performance for your tourism business.

This webinar was developed to help your tourism businesses confirm the online demand for your product or service.

You will learn the essential principles of digital marketing and how to apply these to your tourism business with practical take aways

you can implement straight away.

Webinar Content:

Key principles of digital marketing and a results-driven approach
Using the right tools and data to inform the design and development of your website
SEO basics and how to get more traffic from Google
Increase engagement through social media
The importance of reviews and user generated content
Build lasting relationships through email and customer experience management
The session includes live demos featuring free online applications and tools.

What will you learn?

How to develop a plan with performance measures
How to brief or begin the website design and development process
What Google likes and looks for in a website
What to do and what not to do when developing a social media plan
How to manage user reviews and deal with online complaints

Date : Wednesday November 4th, 2020
Date(s) :
October 27, 2020 2:00 pm
By :
The Conference Director
An online event exploring the opportunities in the Hospitality sector post Covid-19 -training, development, coaching and employee engagement

About this Event

If you are interested to hear more about what leaders in the Hospitality sector think will be the main opportunities post Covid-19 then you should attend.

Host and Facilitator will be Mrs. Michelle Fanus (Host) and Mr. Sola Ojeyemi (Facilitator). Panellists are as follows:

Mrs. Dalila Alismail, Country Training Manager, Golden Tulip Accra Ghana
Ms. Yvonne Mordi, Hospitality Thought leader, Mentor/ Consultant
Mrs. Juliet Okene, Life Strategist
Mrs. Felicity Thomlinson, Head of Growth, Typsy
Mr. Mowaiye Bolorunduro, Human Resources Manager, Radisson
Anuoluwapo Ajala, Assistant Director of Sales & Marketing, Radisson Hotel Abeokuta

Areas of focus will be:

Training and development, coaching, employment and employee engagement.
Date(s) :
October 22, 2020 8:00 pm
By :
Luxury Meetings, Inc.
Designed for Meeting Planners (corporate, association, independent, and 3rd Party) and Hospitality Suppliers (hotels, CVBs, etc.) to meet.

About this Event

Midwest: Virtual Meetings Showcase™.

Featuring the Area's Best Hotels, Resorts & Destinations

Thursday, October 22, 2020

10:00AM- 11:30am Pacific Time (1:00pm- 2:30pm Eastern Time)

***This Registration is for Meeting Planners Only*** Suppliers must email Josh Fields at josh@virtualmeetingsseries.com or Carlos Murillo at Carlos@virtualmeetingsseries.com for separate registration details.

The Virtual Meetings Showcase™ is where Meeting Planner professionals increase their value by expanding their knowledge of unique hotels, resorts, destinations and other specialty event companies. Just as important are the strong relationships they build with these same hospitality partners, which increases their buying leverage.

About the Virtual Meetings Showcase:

Virtual Meetings Series™ is designed for individuals who wish to consistently connect with their colleagues and clients, despite a limited ability to travel and meet in person.

Via your self-personalized avatar, you can move around in a "virtual world" specifically designed for the Incentive Travel, Meetings, and Events (ITME) community. You'll have live group conversations, browse, play, educate, and conduct real business

What's Included in Your Planner Registration:

Virtual Meetings Showcases events are intimately limited to meetings with 6 to 18 hotels and resorts. This event allows meeting planners to attend events specific to the regions and type of hotel they actively book.

AGENDA

10:00AM-10:10AM PDT – Introduction and Orientation to the Virtual Meetings World by our entire executive team. Participants will be provided with helpful tips, tricks, and hacks, which will make use of the virtual networking world even more enjoyable.

10:10AM-11:30AM PDT – Speed Meetings™ between Meeting Planners & Hoteliers/Suppliers.

11:30AM PDT – Formal Event Ends. Prizes Drawings donated by our exhibiting suppliers will be raffled to attending planners.
Do you want to receive your Tourism
Red
pills in your inbox?
Just enter your email address & your business sector and you will receive a custom email in your inbox with webinars and classes in fields you care about as soon they are found by our team!