Date(s) :
July 28, 2020 9:00 pm
Hospitality Marketing Webinars

Providing Free Hotelier Education Every Month

Take your hotel marketing strategy to the next level by watching one of our educational hotel marketing webinars. In these webinars, we take a deep dive into how travelers are searching for hotels and how you can get found in the marketplace. Learn actionable tips to increase revenue and capitalize on digital marketing trends. Sign up for our next webinar or view a recording of previous hotel marketing webinars here.
As occupancy starts to ramp back up across the country, hoteliers are looking for every opportunity to gain a strategic advantage over local competitors. One of the biggest factors that will determine your hotel's ability to capture more guests during this time is your hotel's first impression online.
With Travel Media Group's 1st Impression Score™ hoteliers can see in real-time how competitive their hotel is across all online booking sites. In this webinar, we will explore what factors influence a hotel's 1st Impression Score™ and how to improve that score in order to capture and win more guests.
Date(s) :
July 16, 2020 1:00 pm
By :
City Nation Place | M&C Saatchi
For :
Travel Industry Companies & Destinations
Join us for a webinar with a specific focus on domestic tourism marketing. Mary Harris and David Glass of M&C Saatchi will share research, experience and ideas to help you:

Identify and understand consumers most likely to take a holiday in their home country
Frame your tourism offer more creatively and effectively for local audiences
Produce and implement place marketing campaigns to stand out in a competitive market

We'll be joined by leaders in destination marketing who are working to different challenges – with closed borders, connected to other countries by travel "bridges", fully open, or who have had a previously weak domestic market. There will be tips and learnings for every destination to take away from this session – and the opportunity to ask questions of our speaker panel.

Speakers
Fidan Aliyeva
Brand and Marketing Director Azerbaijan Tourism Board
Susan Coghill
Chief Marketing Officer, Tourism Australia
Head of Marketing & Communications Limeric
Head of Content Digital Marketing Department Slovenian Tourist Board
Mary Harris
Managing Director M&C Saatchi Export
Partner M&C Saatchi
Date(s) :
July 16, 2020 5:30 pm
For :
Attractions & Museums
Your doors are open, but international borders aren't! So, how can you make your museum or attractions appeal more to local customers? With a strong reduction in international visitors, museums and attractions have experienced a shift from a global audience and venues need to tailor their offering to suit the needs and interests of the domestic market. 

You must develop creative ways to attract the locals through your doors and create a sense of urgency for their visit. In this webinar, you'll hear from museums and attractions from around the world that have launched new marketing initiatives and unique products to encourage locals to start exploring what their own city has to offer. 

Join us on Thursday, July 16th at 16:30 CET (10:30 EST | 15:30 GMT) to hear our guest speakers from Casa Batlló, Extrapolitan and Zoomarine Italy who will share their unique marketing initiatives and new products ideas they've launched to drive domestic visitors!

Register now to secure your spot!

Speakers for this special event include

International Sales Manager 

Extrapolitan

---

Marketing Manager 

Casa Batlló

---

Head of World Heritage 

Casa Batlló

---

Marketing & Sales Director 

Zoomarine Italy
Date(s) :
July 16, 2020 8:00 pm
For :
Travel Industry Companies
Tune in to hear Kory Fawcett, CEO, Zaui Software and Dr. Adam Lund, BSc, MD, MEd, FRCP, Emergency Physician and Event Medicine Specialist at  Odyssey Medical dive into conversation, sharing their travel tech and medical perspectives on how businesses are approaching reopening, as well as key considerations for creating safe guest experiences.
In this 45 minute discussion, you will:
Gain insights into how COVID-19 continues to impact travel, the tourism industry, types of businesses reopening, and changes to their operations as the situation continues to evolve

Hear from travel tech and medical experts on what's been working with customers across industries (Travel, Concerts, Sporting Events, Film & TV Industries etc.)

Medical perspective on preventing virus transmission and protection

Best practices for prioritizing guests' health and safety and building consumer confidence
*During the session, our experts will be answering a few questions from our audience. If you'd like to have your question addressed, please submit it through in the registration form or to marketing@zaui.com.
Date(s) :
August 6, 2020 6:00 pm
By :
PhocusWire | Atmosphere Research Group
For :
Travel Industry Companies
Travel sellers have begun to rebuild their businesses in the wake of COVID-19.
Unfortunately, their digital experiences underwhelm their customers, putting brand preference at risk and potentially leaving revenue on the table.
Atmosphere Research's research of online travelers in multiple countries shows extensive – sometimes deep – dissatisfaction and frustration with digital travel planning and booking.
Inertia can be financially fatal. Maintaining the status quo is unacceptable. Using coronavirus as an excuse to not invest creates opportunities for nimbler competitors to poach your customers.
There has never been a more urgent time for travel sellers to reimagine their digital customer journeys. And the way they achieve that is as Complete Retailers.
"Complete Retailing" stems from the availability of customer and business data and insights, transformational technologies and solutions, ancillary products, and highly skilled teams – and a customer base that expects their digital journeys to be based on personalized, appealing offers.
As travel sellers strive to encourage over-Zoomed, house-weary consumers to travel again, Complete Retailing can help travel sellers amplify their value and distinguish themselves more effectively in the marketplace.
Attending this webinar will help you better understand:
Where the digital customer journey is broken, based on proprietary research of online travelers in the US, China, the UK, Germany, and Spain.
Why Complete Retailing is the foundation for reimagining a more effective digital customer journey.
And more!
The webinar will be broadcast on Thursday, August 6, 2020.
Participants:
Henry Harteveldt, president and travel industry analyst at Atmosphere Research Group.
Máire P. Walsh, senior vice president of digital technologies at Enterprise Ireland.
Kevin May, editor in chief at PhocusWire.
Date(s) :
July 14, 2020 4:00 pm
Join our (Re)Start series for strategies to restart your tour or activity company as travel slowly resumes.

In this webinar, Jenna Blumenfeld will join us to share tips and strategies to restart your marketing efforts, and how to adapt your strategy to attract a local market.

How to authentically market your tours and activities in a post-pandemic world
How to leverage on content marketing strategies to attract a local audience
How to use storytelling to build and strengthen your brand's voice
How to shift your marketing strategy to attract a local market
Actionable insights to drive results

---

Jenna is a content marketer with experience working for B2B and consumer publications. She helps brands craft their content marketing, lead generation and social media strategies.

She previously worked with Arival and her writing has been published on Outside, Outdoor Research, yoga journal, and informa markets just to name a few.
---
As many destinations begin to ease lockdown restrictions and more travellers seek out summer getaways to escape the city, tour and activity operators will be on the frontlines welcoming new guests from different cities. To restart travel, the tourism sector needs to work together to win back consumer confidence.
Over the next few weeks, we'll be working with industry experts to share ideas on our blog or through webinars to help operators restart their operations and welcome guests again.
We hope you find this useful. If you have further suggestions, please email nicole@trekksoft.com.
Date(s) :
July 15, 2020 5:00 pm
Chris Torres, of the Tourism Marketing Agency, will discuss how you can better target the local and domestic markets to grow your tour and activity business during these uncertain times. Chris will explain key demographics you can and should consider targeting on platforms like Facebook and Google.
Chris Torres
Founder & Director
Chris Torres has 26 years' experience working in brand development and marketing, and he's spent the last 14 years running his own company, Tourism Marketing Agency. His mission is a simple but challenging one: to educate the tour, activity and travel sector on how to better acquire customers and grow their business through direct bookings.
Date(s) :
July 16, 2020 6:00 pm
Price :
Pay-what-you-want mode
Travel's Path Forward: Loyalty

As the markets have been decimated by Covid-19, travel was brought to a standstill and loyalty was measured far more by delivering on customer service demands than incentives. Balanced communication and anticipating customer needs remain key in this period. However it may also be a good time to consider an expanded view of loyalty in travel and explore the impact of the loyalty-tech landscape.Please join Skift editors and research analysts as we highlight the challenges and opportunities ahead, and hear from leaders throughout the industry — hotels, airlines, online travel agencies, consumer brands, and intermediaries– showcasing the latest strategies and shifts in this ecosystem amid the fallout from the crisis and lessons learned.

Can't attend live? A recording will be available after the event.

What You'll Learn

What are the dos and don'ts in this time in terms of brand communication and loyalty program messaging?Will customers have a lasting memory of long refund delays and negative sentiment as they scrambled to change or cancel their travel?How can loyalty be a vehicle for a stronger return for brands across sectors?Is it possible to open the door for earning points and status for the broader market and not alienating existing top customers?How can brands be creative in anticipating customer needs in this time by forge strategic partnerships or collaborations with other brands?How has the virus affected the growth of subscriptions models in loyalty and how might the crisis shift consumer behavior around these programs?

Date: July 16, 2020

Time: 6 p.m. – 7:30 p.m.

EEST




Can't attend live? A recording will be available after the event.

Place: Online via Zoom Webinar

What It Costs

We know this is a challenging time across the industry.

We're offering this event on pay what you want basis.

After you register, you will receive an email confirmation from Zoom. You will also receive reminders both the day before and one hour prior to the event.

1. Access to the event using the Zoom webinar service.

2. Audio and video of the webinar.

3. Ability to ask questions via Twitter. Use #skiftsummit.

4. Access to view a recording of the event.

---

Technical Matters

You will be able to access the feed on Mac, PC, and Chromebook laptops and desktops as well as iOS and Android devices.For best results, please download the app from Zoom.us in advance of the event.Note: Attending the webinar does not include the ability to access a list of attendees.
Date(s) :
July 2, 2020 11:00 am
Boost your tourism with engaging running experiences

About this Event

People today have at heart to do physical activities outdoors, to re-appropriate their environment.

On your side, you will probably have to revitalize your city center, your tourism and help all categories of populations to move in a secure, autonomous way, while avoiding regroupings.

Thanks to our Runnin'City app, we can help you take advantage of this craze, highlight your urban and natural heritage and get your residents and summer tourists moving.

We offer tourist offices, towns and cities the opportunity to create original running and / or walking routes that combine physical activity and sports and guided (heritage) visit for all audiences (sportspeople, the elderly, people with reduced mobility) , etc.).

Runnin'City (http://runnin.city) is a smartphone application that lets you discover more than 200 cities around the world while running (or walking). Runnin'City has been awarded worldwide for its innovative, reliable technology and is used by references such as Paris, Brussels, Lyon, Nancy, Bordeaux, etc. but also small villages of 300 inhabitants for example.

Beyond the unique communication opportunity that the routes in Runnin'City will bring you, the routes are available within a few days in several languages ​​and are very easy to use. As a bonus, they display air quality and allergen levels in real time to further improve the feeling of safety and comfort for users.

Finally, the solution requires only a small investment.
Date(s) :
June 30, 2020 1:00 pm
By :
Sustainable Tourism Community - Interreg Med Urban Transports Community - Interreg Med Civitas Destinations
Joint webinar in the framework of cooperation among CIVITAS DESTINATIONS project and MED Sustainable Tourism & Urban Transports Communities
REGISTER HERE
BACKGROUND
This webinar brings together three big European projects dealing with the development of smart and sustainable measures in tourist destinations: two Interreg MED communities of projects on Sustainable Tourism and Urban Transports and CIVITAS DESTINATIONS project, funded by Horizon 2020.
The goal of this webinar is to share good practices on the integration of sustainable and smart mobility in tourism policy/products and to showcase some concrete examples and practical guidelines developed by those projects with a special focus on Mediterranean destinations.
DRAFT PROGRAMME
Moderation: Ms Sandra de Puig, Network of European Regions for a Sustainable and Competitive Tourism (NECSTouR)
12:00-12:10h Introduction and brief overview on MED Sustainable Tourism/Urban transports Communities and CIVITAS DESTINATIONS project
/ Mr Josep Rodríguez, Barcelona Provincial Council. MED Sustainable Tourism Community Lead partner
/ Mr Panos Coroyannakis, Conference of Peripheral Maritime Regions (CRPM). CIVITAS DESTINATIONS project, Director of Communications
/ Mr Oriol Barba, MedCities, Urban Transports Community, Lead partner
12:10-12:30h CIVITAS DESTINATIONS 10 practical guidelines on tourism and mobility
/ Ms Maria Stylianou Michaelidou, Manager Limassol Tourism Board
12:30-13:00h Presentation of Smart and Sustainable Mobility Measures in Tourism developed in CIVITAS DESTINATIONS
/ Mr Panos Coroyannakis, CRPM, CIVITAS DESTINATIONS project, Director of Communications
13:00-13:30h Transferring results of projects on tourism and mobility in the Mediterranean
/ Tools for the development of cycling tourism in the Mediterranean: Eurovelo 8. Ms Florence Grégoire, Eurovelo Communications Assistant, European Cyclist Federation, MEDCycletour project
/ Sustainable cruise value chain action plans. Mr Marjan Dumanić. Public Institution RERA SD for coordination and development of Split Dalmatia County, SIROCCO project
/ Bike sharing for cruise passengers, when does it work? Mr Fabio Tomasi, Area Science Park, LOCATIONS project
/ A handbook on sustainable mobility in the MED Area. Ms Valentina Ridolfi, Agenzia Piano Strategico – Rimini, MOBILITAS project
ORGANISERS
The Sustainable Tourism Community – an Interreg MED initiative co-funded by the European Regional Development Fund (ERDF) – relies on 24 territorial cooperation projects and almost 400 organisations (mainly public authorities, private companies, universities, NGOs and international organisations) active in 13 European countries to promote sustainable tourism by capitalizing on tools and good practices developed by its projects.
The MED Sustainable Tourism community is coordinated by DIBA – Barcelona Provincial Council (Barcelona, Spain) in partnership with UNIMED – Mediterranean Universities Union (Rome, Italy), University of Thessaly (Thessaly, Greece), Arco Latino, a network of local public authorities (Tarragona, Spain), NECSTouR – Network of European Regions or Sustainable and Competitive Tourism (Brussels, Belgium), Plan Bleu UNEP MAP, the Regional Activity Centre of Mediterranean Action Plan (Marseille, France), Adriatic and Ionian Euroregion (Pula, Croatia), RDA Green Karst Regional Development Agency (Pivka, Slovenia).
————
Civitas Destinations is an Horizon 2020 project that builds up an integrated approach to address mobility and tourism, testing balanced strategies to face the rising challenges of these two growing sectors and to achieve sustainable development and a better quality of life in Funchal, Limassol, Rethymno, Elba, Las Palmas de Gran Canaria and Valletta.
It develops a set of innovative actions in order to implement sustainable mobility measures and actions with the view to offering intelligent sustainable transport solutions for tourists and residents alike through innovation and cooperation with all major stakeholders. These solutions aim to improve urban accessibility, the cost effectiveness and integration of transport services and to reduce emissions and energy consumption.
————
The Urban Transports Community is an Interreg MED Programme initiative that promotes sustainable urban mobility planning across the Euro-Mediterranean region. Gathering seven territorial cooperation projects, almost 120 organisations active in twelve countries, this initiative proposes, capitalises and replicates effective and sustainable mobility solutions to reduce carbon emissions and improve the quality of life of the population and the environment.
The Urban Transports Community is featured by a project lead by MedCities  (Barcelona, Spain), in partnership with UNIMED Mediterranean Universities Union (Rome, Italy), Area Science Park (Trieste, Italy), CODATU (Lyon, France), CIVINET CY-EL (Cyprus-Greece), POLIS, Cities and Regions for transport innovation (Brussels, Belgium), and Durres Municipality.
Date(s) :
June 23, 2020 3:00 pm
By :
TravelDaily | China Travel News

Webinar, June 23: Chinese Travelers' Digital Journey Post-Pandemic
Businesses worldwide are increasingly reliant on digital channels and touchpoints to engage their customers, and the coronavirus pandemic has made online penetration even more imperative for travel brands as people now tend to stay home while also stay connected via the internet.
The world will gradually reopen for business, but how should global destinations and travel companies leverage the digital landscape to remain relevant and top of travelers' mind?
TravelDaily, China's leading digital publisher and event organizer, will host a webinar on Chinese Travelers' Digital Journey on June 23. Travel-focused digital marketing agency Dragon Trail Interactive will join the session and share its insights into the consumer behaviors and user preferences of Chinese travelers after coronavirus outbreak.
There have been early signs of travel recovery in China, and the industry is exploring new ways to accelerate the rebound. Travel brands including OTAs, hotels, and even airlines are turning to live streaming with KOLs to increase their business volumes, offering advance purchase in compelling deals.
The online session presented by TravelDaily will shed light on the strategies for travel brands to effectively engage with their target audience throughout the inspiration, research & planning, price-comparison & booking, and in-destination phases of the customer journey.
Register now for the Chinese Travelers' Digital Journey event scheduled on June 23 and join our discussion on digital marketing for destinations and travel brands.
Contact: Echo Zeng
Email: echo@traveldaily.cn
Date(s) :
June 24, 2020 5:00 pm
Expand your F&B brand online during COVID-19.

About this Event

It is no surprise to anyone that the COVID-19 pandemic is having a massive impact on all of us. While all industries have certainly been affected in some way, the Restaurant and Food Service industry may be one of the hardest hits overall on a global scale. Today, digital marketing has become even more imperative in our business strategies. We invite you to join us in collaboration with the City of Miramar Economic and Business Development Department, for our Let's Get Digital: How to Expand Your F&B Brand Online, on Wednesday, June 24th from 10:00 am – 12:00 pm.

Learn from industry experts on digital marketing, the importance of B2C, and how to better market your business online during COVID-19. Moderated by Director of Marketing at Prism Creative Group, Janel Allen. Learn more about our moderator and panelists as they discuss the changes we need to endure in this new era.

Zoom Webinar link will be provided via email upon registration.

Agenda

Day: Wednesday, June 24, 2020

Time: 10:00 am – 12:00 pm EDT

Meet the Moderator:

Janel Allen, Director of Marketing at Prism Creative Group

Janel Allen is the Director of Marketing at Prism Creative group, a mission-aligned creative agency geared toward re-branding Miami and amplifying culture through community events, experiential marketing, a media platform, and a small business advocacy platform. Since joining the agency in 2016, she has led strategy on all Prism social media platforms, interfaced with a multitude of cultural institutions and organizations through Culture Crusaders, and has managed the Support Local Florida network directory, events, and community base.

Meet the Panelists:

Anita Fain Taylor, Director of Economic and Business Development, City of Miramar

Anita Fain Taylor has over twenty-five years of executive leadership experience in local government with demonstrated excellence in developing a team of high-performing executives; coaching executives to improved performance; strategic plan implementation; organizational change and development; and customer service delivery. She has over ten years of leadership in Women's Ministry and Bible studies. She is a certified coach, trainer, and speaker for the John Maxwell Organization. Anita is a graduate of the University of Florida, South Florida Bible College and Theological Seminary, and a graduate of Harvard University's Senior Executives in State and Local Government.

Anita is the Director of Economic and Business Development for the City of Miramar, a partner of Norman E. Taylor and Associates (an economic development consulting firm) and an accomplished facilitator, speaker and presenter to a variety of groups ranging from professional organizations to women's ministries. She is the Area 11 Director (Division A), District 47 of Toastmasters International. Anita is the third-place winner of the 2018 Toastmasters International World Public Speaking Contest.

Alexis Fox, Digital Marketing Manager, City of Miramar

Alexis Fox has over ten years of marketing experience and leadership in marketing and public relations. She has demonstrated excellence in developing social media and digital marketing strategies and campaigns. Alexis has generated increased brand recognition and engagement for local municipalities on social media platforms, strategic plan implementation, B2B and B2C communications via digital marketing tools, proper tracking and analytics of digital marketing to improve productivity, and better manage marketing dollars. Alexis is Facebook Blueprint, Google Ads, and Google Analytics certified for Tag Management and digital optimization. She earned her Bachelors degree at Florida International University's Chaplin School of Hospitality with a focus on Special Events and Promotions and is currently pursuing a Masters in Public Administration.

Alexis has worked at various levels of marketing in the public and private sector which allows her to offer a unique take in the marketing industry. Over the last three years, with the City of Miramar, Alexis has progressed from a marketing coordinator, to events and promotion manager – overseeing the marketing for free community events and revenue generating events held in Miramar, and now the digital marketing manager for the City of Miramar. Her goal is to constantly progress the overall brand of Miramar as a multifaceted municipality and improve its communication with the residents and businesses it serves.

Indira Pierott, Director of Client Services, 100K Incubator

Indira Pierrot is the Director of Client Services for 100K Incubator, the first business funding mobile app for women in Apple and Google's app stores. Her role is to execute on the vision of getting 100,000 early stage women entrepreneurs the sales funnels and digital advertising campaigns necessary to produce profit off seed investments and scale their businesses. She is a graduate of Seminole State College and is a former stockbroker.

Michelle Roopchand, Social Media Management and Content Development

Michelle Roopchand graduated from NYU with a Masters in Corporate Communication and Public Relations. Her motto is "Social Media doesn't apply to the rules of 9 to 5, and neither do I." Roopchand has an extensive background in social media management and content development, and she prides herself in providing excellent customer service to her clients and work diligently with her clients to achieve all of their brand and digital media goals.

About StartUP FIU Food

StartUP FIU Food is a partnership with the Chaplin School of Hospitality and Tourism Management to leverage a state-of-the-art commercial kitchen and technical assistance to help food entrepreneurs, who traditionally do not have access to capital, to scale their existing operations. This program was seeded by Citi Foundation and sustained through City Community Development.

About StartUP FIU

StartUP FIU is a university-wide initiative that fosters and develops entrepreneurship and innovation to help our students, researchers, and community connect, contribute to and thrive in today's fast-changing world. We create and run programs based on two foundational beliefs: that the skills and principles of entrepreneurship are essential to navigate and harness the opportunities of our disruptive age, and that universities can play a unique role in unlocking opportunity and unleashing potential to shape a better, more inclusive, and more innovative tomorrow.

About City of Miramar

The City of Miramar was incorporated May 26, 1955 with a population of less than 200 people. With a 2020 population of 143,219, it is the 13th largest city in Florida and the 188th largest city in the United States; making Miramar a preferred locale for major corporations, Fortune 500 companies, and small businesses to call home. The city is centrally located between the Miami and Fort Lauderdale metro areas and less than 30 minutes to the Miami and Fort Lauderdale airports and seaports. Miramar was named among the top 100 of "America's Best Places to Live" by Money Magazine in 2006 and again in 2008; offers the largest commerce park in the region which includes a foreign trade zone; and has a highly skilled and professional workforce. Miramar is in a unique position relative to attracting corporate relocation, small and mid-sized businesses and development. The city government is committed to ensuring the quality of life currently enjoyed by its residents and providing the opportunity for sound and managed growth.
Date(s) :
June 22, 2020 6:00 am
By :
Lake Macquarie City Council Events
Tap into Tourism: A Lake Mac GLAM event presented by Kate Shilling, supported by the History Council NSW

Heritage organisations and historical associations are great at hosting special events to commemorate moments in time and people from the past. This workshop will provide local history groups with tools and tourism advice inspiring them to connect and collaborate, transforming their calendar of events into a range of heritage experiences that appeal to modern travellers.

"Tap into Tourism" will start by providing a 2020 perspective on the state of play in the tourism industry.

You'll hear about different types of travellers and the experiences that get them looking (and booking) a getaway in regional Australia.

We'll then look at case studies from the world of wineries, nature conservation, art and culture to see how niche organisations have connected with their wider community, developing creative experiences that are based around their special subject, focussed on the visitor and easy to book.

We'll finish discussing different ways these new ideas can be applied to local history and heritage organisations.

We'll look at linking your local expertise and historical landmarks with other cultural assets in your region so you can set the scene for visitors and deliver immersive tourism experiences with unique insights into what makes your town tick.

Who is Presenting?

Kate Shilling is a strategic sales and marketing professional, with a strong track record in partnership marketing across all tourism sectors. She has worked with leading travel distributors, media, creative and digital agencies to develop, promote and sell innovative travel experiences in Australia and overseas.

With a CV that includes leadership roles at Flight Centre, Tourism NT, NRMA Travel, Qantas Holidays, Helloworld and Australian Traveller Media, Kate is the founder of Straightforward Tourism Solutions, a Director on the Board of Destination Riverina Murray, and is currently the Executive Officer of Ultimate Winery Experiences Australia.

In late 2017, Kate launched Family History Holidays, a travel company whose mission is to get people going, actively researching and recording their family story.

Kate is keen to help heritage organisations of all sizes develop tourism experiences that connect and bring more customers into their community, creating a vibrant heritage tourism industry that generates business for genealogists, history groups and heritage organisations in regional Australia.

PRESENTED AS PART OF SPEAKER CONNECT YEAR ROUND

PRESENTED BY THE HISTORY COUNCIL OF NSW

SUPPORT BY CREATENSW

WWW.HISTORYCOUNCILNSW.ORG.AU/SPEAKERCONNECT
Date(s) :
June 30, 2020 4:00 pm
By :
Marches Family Network & Herefordshire's a Great Place (Rural Media)
For :
Cultural Attractions
Find out how to make outdoor heritage spaces more accessible and inclusive to all.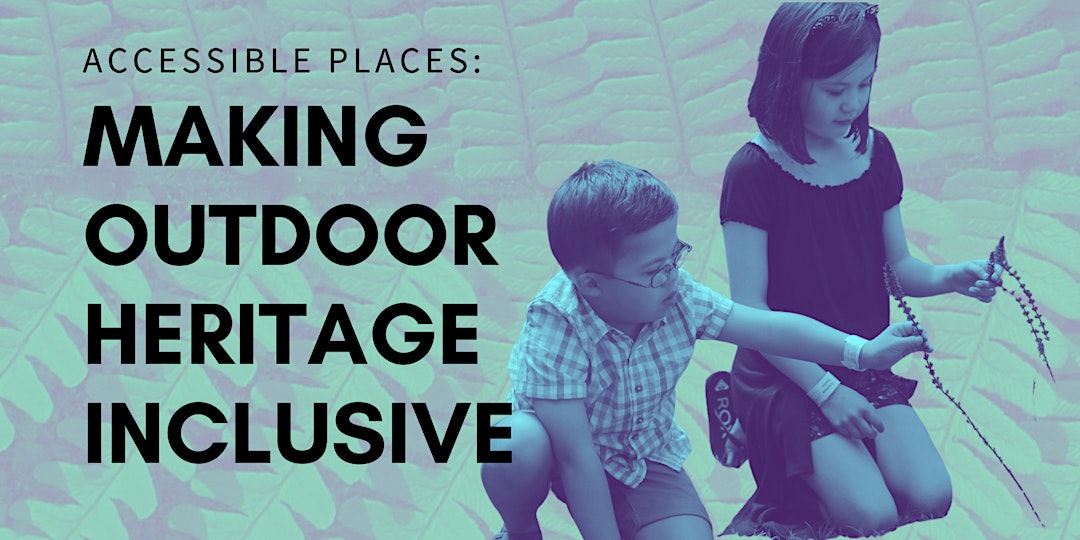 About this Event
How do we ensure our outdoor and open-air spaces are accessible and inclusive to all?
Marches Family Network's Allinteractive Inclusion project and Herefordshire's A Great Place have partnered to create these Inclusion Forum sessions.
Join Lynsey Robinson, Inclusive Designer at the Sensory Trust based at the Eden Project in Cornwall who will speak about the Sensory Trust's work and discuss good practice and the importance of inclusion. Chris Styles from LOOK-UK will contribute this discussion.
We'll look at:
How accessible outdoor experiences are achievable
How to provide sensory-rich and inclusive heritage experiences
The benefits of getting 'closer to nature'
Accessible Places series
This is the first of three webinars co-hosted by Marches Family Network and Herefordshire's A Great Place that explore how we can make our places and spaces more inclusive. Each session will feature guest speakers and a Q&A.
The webinars are open to anyone, but especially those involved in tourism, culture and heritage sites across Herefordshire and the neighbouring counties.
Only those who have registed will receive a link to the Zoom session. All sessions will be recorded.
For more infomation please contact Angela Martin, Coordinator of the Allinteractive Inclusion project at Marches Family Network, on 01568 614908 or development@marchesfamilynetwork.org.uk.
The Speakers
The Sensory Trust works to make places more accessible, engaging and useful for everyone, regardless of age, disability and social circumstances. It has campaigned for and supports bringing chlidren with additional needs closer to nature and offers guidance on access and inclusive design.
LOOK-UK is a national charity providing help, support and information for visually impaired young people, their carers and families. They match visually impaired younger people with mentors, run a helpline and offer a wide range of resources and tools.
Any questions?
If you have any questions about the webinars or resources that are available, please email development@marchesfamilynetwork.org.uk or greatplace@ruralmedia.co.uk.
You can find out more about the Marches Family Network's Allinteractive Inclusion project here, or read about the work of Herefordshire Cultural Partnership's Great Place project, supporting arts and heritage, at www.the-shire.co.uk.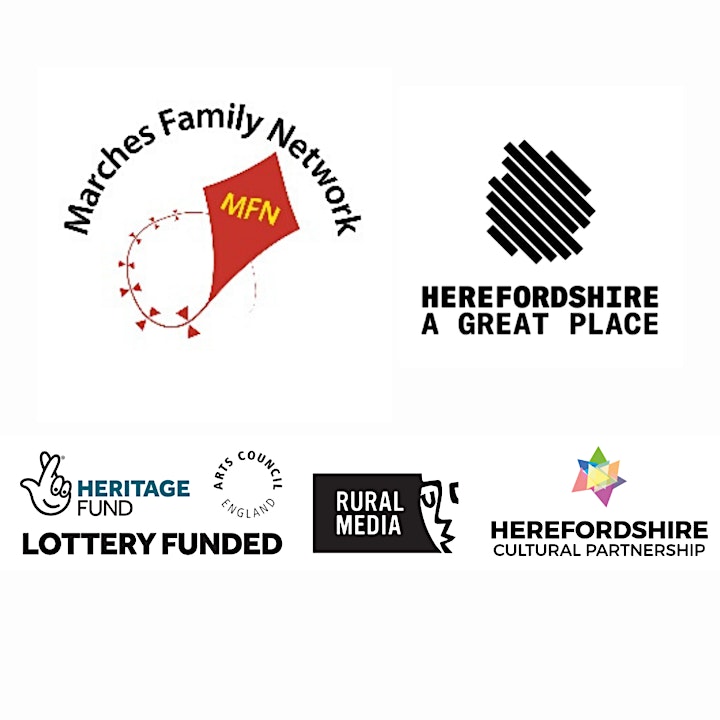 Date(s) :
July 7, 2020 4:00 pm
By :
European Wilderness Society
Wilderness and protected areas are facing challenges with visitors and tourism, as more and more people are interested in seeing and experiencing the wild.
However, a visitor and recreation plan is required in order to reduce human impact. Therefore, in course of this webinar 'Wilderness and tourism', we provide an opportunity to learn about adequate tourism management in Wilderness, that allows to experience solitude and a sense of Wilderness and at the same time aims to minimise human disturbance and modification.
Speakers for this event
Max A E Rossberg

Chairman of the European Wilderness Society

Vlado Vancura

Vice-chairman of the European Wilderness Society
Date(s) :
June 17, 2020 6:00 pm
For :
Travel Industry Companies
WEBINAR WILL BE RECORDED
They are some of the biggest questions facing everyone in travel and tourism: when will international travel resume? When it does, what will it look like? What will travelers expect? Which travelers will return first? And how do we all prepare for that uncertain future?
We have asked Carroll Rheem, the head of research and analytics for Brand USA, the global tourism marketing organization for the United States, to share her insights on what lies ahead for international travel.
In this in-depth discussion we'll delve into how travelers around the world are thinking about travel, how they are planning trips and what they are looking for. We'll discuss what operators of tours, activities, attractions and experiences should do to reach those travelers, what travel marketing will look like in the future, and what adjustments operators should make to their products.
FEATURED PRESENTERS
vice president, research and analytics, Brand USA
Carroll is vice president, research and analytics for Brand USA, the nation's public-private partnership dedicated to increasing international visitation to the United States through marketing and promotional efforts. In this role, Carroll leads…
Date(s) :
June 30, 2020 9:30 am
For :
Wine Tourism Companies
FOMENT 2020 is launching LIVE from the Barossa Valley on Tuesday 30th June! We look forward to bringing you a unique and exciting event.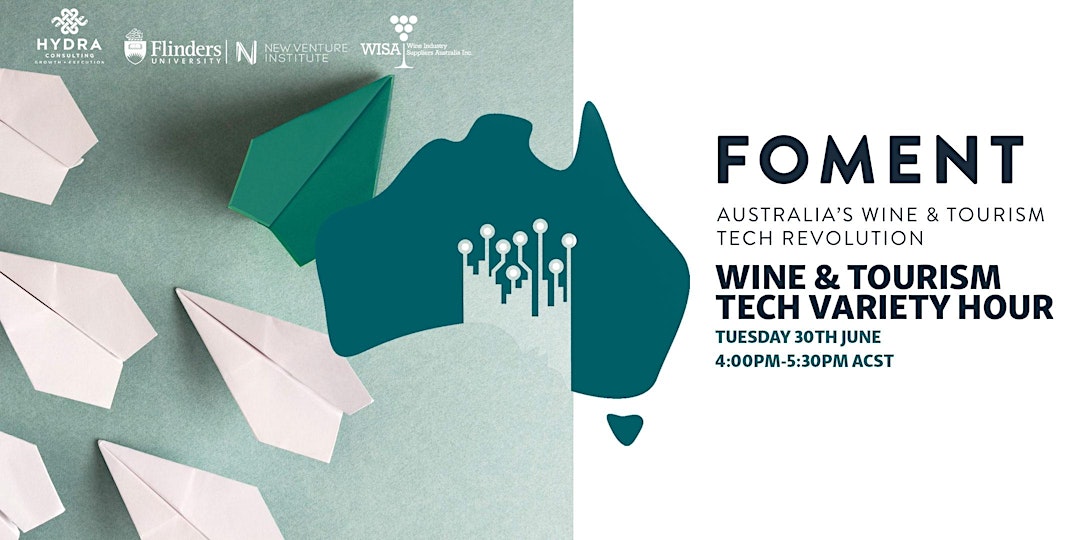 About this Event
Technology will shape the future of wine and tourism and we want to put Australia on the map as the global home of wine-tech and tour-tech.
FOMENT is here to accelerate the next generation of wine-tech and tour-tech to be developed here in Australia and exported to the world.
Join us for the Launch of FOMENT 2020 live from the Barossa on Tuesday 30th June via YouTube Live!
We'll be broadcasting live from the Signature Cellar at Yalumba in the Barossa, South Australia and bringing you our inaugural FOMENT Wine and Tour Tech Variety Hour – with an entertaining array of guests in the know about the future of tech for the wine and tourism industries.
We are excited to announce the following Guest Speakers with more to be announced:
TIM WHETSTONE, MINISTER FOR PRIMARY INDUSTRIES AND REGIONAL DEVELOPMENT
Minister Whetstone will be kicking off the FOMENT Program for 2020, and talking to us about his views of the future of technology adoption and development for our wine and tourism sectors.
CHESTER OSBORN, D'ARENBERG
Chester chats to us about how his vision for The Cube met technological innovation and what he sees next for engaging customers.
MAX ALLEN, WINE WRITER
Max will be sharing with us his thoughts on where tech has the biggest role to play in the wine industry and how he sees that being adopted.
DAMIEN WILSON, SACRAMENTO STATE UNIVERSITY
Damien joins us from USA to talk about the effects COVID has had and what he believes will be the biggest changes to wine and tourism post-COVID.
OLI MADGET, PLATFARM
Oli will share what he sees is next for viti-tech, and how we encourage more vineyards to embrace new technology.
CHRIS BRAINE, CELLR
Chris was a participant in FOMENT's pilot tech start-up acceleration program in 2019, and will talk to us about his FOMENT experience and how his business has evolved since.
BRENT HILL, SATC
Brent gives us his thoughts on what virtual tourism looks like and how you can make money from hosting virtual events in the given COVID environment.
JAMES MARCH, BAROSSA GRAPE AND WINE ASSOCIATION
As one of our major sponsors, Executive Officer of BGWA James March will be talking to us about why they are supporting FOMENT and what impact they see it having on our wine and tourism industries.
JING CAO, CHINESE LANGUAGE AND CULTURAL ADVICE
Jing will give us insight into how he has seen Chinese consumers are adopting technology in wine and how this can be further utilised in the wine and tourism industries.
AMBER AND BETH LEBAU, SPITBUCKET BLOG & VIRTUAL WINE EXPERIENCES
Amber Lebau is the wine geek and Author at the renouned Spitbucket wine blog and manager of VirtualWineEvents.com. Amber and Beth will be speaking to us about how technology has enabled virtual wine experiences to grow and evolve.
POLLY HAMMOND, 5 FORESTS, SPAIN
Polly will be talking to us about how she is helping wine makers and wine businesses adapt to the digital world through her position as the founder of 5Forests and the co-founder of Real Business of Wine.
______________________________________________________________________________________________________
Keep an eye out on our social media for more event information and Guest Speakers!
______________________________________________________________________________________________________
Are you a wine-tech or tour-tech start-up ready to scale up? Are you're a tourism or wine operator that wants to adopt new technology into your business? Become a part of FOMENT to find out how we can help you!
For more on FOMENT visit: https://www.foment.com.au/
______________________________________________________________________________________________________
FOMENT is brought to you by Flinders New Venture Institute, Wine Industry Suppliers Australia and Hydra Consulting.

Proudly Sponsored by Barossa Australia, Wine Australia and Australian Government Entrepreneurship Facilitator Service (Barossa Yorke and Mid North).

Proudly Sponsored by the South Australian Government.

Date(s) :
June 15, 2020 8:00 pm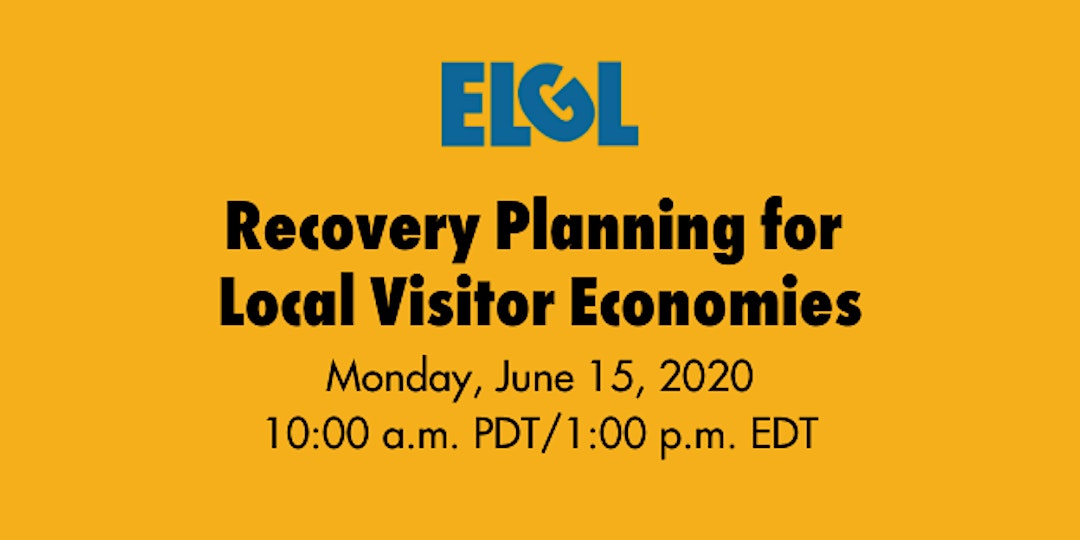 For many cities, the economic activity of the travel & tourism sector is an essential part of the city's larger economic landscape.
About this Event
Because the visitor economy has been so hard-hit by the COVID-19 crisis, deliberate action to foster a recovery in that sector is a top priority for destinations everywhere. In this webinar, we will explore tools that destinations can use to plan for recovery and what destinations of different scales are doing to lay the groundwork that will help bring their visitor economies back:
How can destinations plan for their recovery and what tools are available to guide them through the process?
In what specific ways has the COVID-19 crisis impacted local visitor economies?
What are the biggest challenges that destination organizations are facing?
How are destination organizations working with municipal governments to address the challenges that COVID-19 has brought to the tourism industry?
What levers of change do municipal and state governments have, and what's in the control of destination organizations?
What are some innovative or creative approaches to rebuilding visitor economies?
Join us for this interactive event to learn more about how your community can rebuild your important visitor economy.
Featured Guest Speakers:
Megan Conway, Chief Strategy Officer, Travel Portland
Molly Cano, Tourism Manager, City of San Luis Obispo
Matthew Landkamer, Travel & Tourism Practice Lead, Coraggio Group
Date(s) :
June 18, 2020 11:30 am
For :
Travel Industry Companies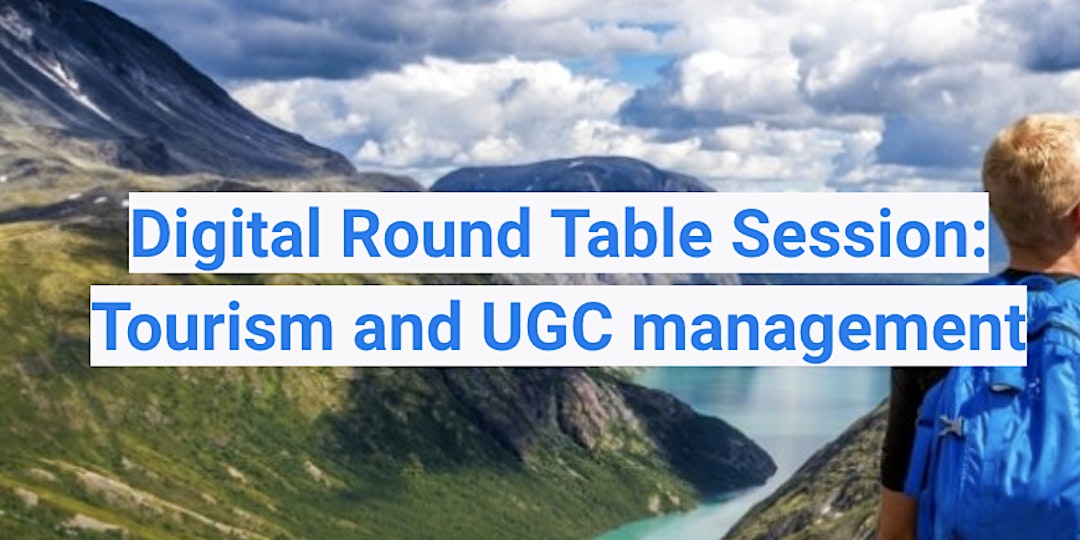 An event dedicated to Travel & Tourism industry, where best UGC tips and tricks will be shared just before the summer season!
About this Event
Join Flowbox's next Digital Round Table session and exchange with leading companies from the Travel & Tourism industry.
Best UGC tips and tricks will be shared just before the summer season!
Agenda of the session:
Open discussion on current challenges for the Travel & Tourism Industry –> we will safely talk about pain points and how to overcome them.
Concrete ideas to get to the next UGC level –> we will share some concrete inspiration and suggestion to better manage and display your content, but also to find new ways to engage with your community.
Date(s) :
June 17, 2020 7:00 pm
Sojern's Travel Webinar Series How Attractions Can Leverage Digital Marketing Wednesday, June 17th
 7:00 pm (GMT+3 Athens Time)
For our next webinar, Arival Co-founder Doug Quinby joins Sojern's Director of SMB & Tourism, Cat Origitano to discuss how attractions can drive bookings through effective digital marketing strategies. Attractions often have last-minute bookers and walk-ups, and invests heavily in out-of-home advertising solutions, so tackling online marketing can seem daunting. We'll lay out some quick wins to help you improve your digital marketing, capture direct online bookings, and give you more ways to engage with your potential visitors.
Webinar Presenters
Douglas Quinby, Co-Founder, Arival
Douglas co-founded Arival to fill the huge void in insights, information and conferences for travel's third-largest and most important sector: Tours, Activities & Attractions. Since its founding in 2016, Arival has become the defining platform for the sector, with three conferences worldwide, a series of definitive research reports and the Arival.travel media site and newsletter. Prior to co-founding Arival he served as Senior Vice President, Research at Phocuswright, where he led seminal studies on numerous travel trends and sectors, including Tours, Activities & Attractions. He has deep experience in consumer and industry research with extensive background in both quantitative and qualitative methodologies, including consumer insights, surveys, and industry data analytics.
Cat Origitano, Director of SMB & Tourism at Sojern
Catlyn (Cat) Origitano is the Director of SMB & Tourism at Sojern. She leads a global team responsible for bringing new solutions and offerings to hotels, attractions, & tourism clients. She has previously supported Product teams, driving globalization and localization initiatives and product launches around the world. She has also held Marketing positions, leading content & social programs for the tech industry. She is an expert on using data and programmatic, digital marketing to drive effective campaigns for the travel industry. She holds a PhD in Philosophy.
Aline Hilsabeck, Staff Data Analyst, Travel Insights, Sojern
Aline currently works as a Staff Data Analyst on the Travel Insights Team at Sojern. In her role she helps brands uncover impactful insights to gain better understanding of their customers. Prior to Sojern, she worked at Jumpstart Automotive Media for the first four years in ad operations and the remaining six years running their insights and analytics. She currently resides in the Bay Area with her 2 children and husband, and enjoys traveling and making cappuccinos.
Do you want to receive your Tourism
Red
pills in your inbox?
Just enter your email address & your business sector and you will receive a custom email in your inbox with webinars and classes in fields you care about as soon they are found by our team!