Date(s) :
May 8, 2020 3:00 am
Hear from 3 sustainable travel leaders from Honduras and Brazil on the impact of COVID-19 on their businesses and communities.

About this Event

The coronavirus pandemic has had a huge effect on global economies. Around the world, the travel industry has been one of the hardest hit. At ExplorEquity, we focus on sustainable travel and create authentic experiences to connect directly with locals. We've invited two of our in-country partners, who operate sustainable travel businesses in Honduras and Brazil, to share with us about the impact of COVID-19 on their businesses, their countries, and the communities they work with.

Get to know the businesses:

ExplorEquity is a social impact travel company that brings awareness to global equity issues by curating immersive experiences. Our experiences highlight significant issues such as food systems, sustainability, social justice, and responsible travel. We currently operate trips to Puerto Rico, Honduras, and Brazil.

Choose Honduras is a marketing platform that integrates the services of different tourism service providers, that share our commitment to sustainable tourism practices, across the country into trip itineraries based on traveler's preferences and highlighting the rich cultural and natural diversity of Honduras.

Viare Travel aims to be the leading resource for bespoke travel services in Brazil, for the conscious traveler. They are a local agency, known for working with excellent local providers, using sustainable travel practices, and helping clients travel to Brazil with confidence.

Our Speakers:

Isis Castro is a passionate tourism professional with over 17 years of experience in tourism planning and development, especially promoting community-run tourism initiatives. She was born in San Pedro Sula, lives in La Ceiba on the north coast surrounded by national parks where she enjoys birding walks in her spare time, and has travelled to every corner of the country. She is a board member of Un Mundo, a non profit organization that works in education and community development, and is also a board member of the Honduran Ornithological Society. She is Choose Honduras' general manager and responsible for trip logistics.

Gustavo Ustariz has worked in the tourism industry for almost 25 years in many different roles including project director for regional tourism planning initiatives and in the private sector in hotels and restaurants. He has a passion for teaching and has worked as program coordinator and lead instructor for colleges in Honduras and Canada. He leads Choose Honduras' marketing efforts in North America. In his spare time, a pair of binoculars and bird guide book are always by his side.

Polyana de Oliveira, Owner and Director of Viare Travel, is passionate about cultural exchange and empowering communities through travel. She is also the President of Projeto Bagagem, a nonprofit organization supporting community-based tourism in Brazil. Born in Brazil, raised in the US, and back in Brazil since 2008, she holds a bachelor's degree in Global Business & Relations, and began her career working in digital marketing for over 10 years. She has been working in the travel industry since 2011, and holds the GSTC Certificate in Sustainable Tourism. At Viare, she is responsible for overall team management, strategy, partnerships and marketing. Her favorite place to visit in Brazil, is Minas Gerais. The state, where she was born, has beautiful mountains perfect for hiking, and is a place for her to eat all the cheese her heart desires!

Moderators:

Catarina Rivera and Remi Oguntoye, Co-Founders of ExplorEquity will moderate this conversation. They are based in New York City.
Date(s) :
May 7, 2020 1:00 pm
By :
World Tourism Organization (UNWTO)
For :
Tourism Businesses & Destinations

The World Tourism Organization (UNWTO) presents the top solutions for tourism recovery for people, businesses and destinations. Join us!
In response to the COVID-19 impact on people, businesses and destinations, the World Tourism Organization (UNWTO), with the support of the World Health Organization (WHO), launched the Healing Solutions for Tourism Challenge.
This initiative has identified the most disruptive startups, entrepreneurs, innovators and existing technologies with ready-to-implement solutions to make travelling possible once again. Throughout the 4-week call, 1183 projects from 110 countries were received and evaluated by an Expert Committee.
Selected solutions from three categories will be presented in a Digital Presentation to Member States and key stakeholders from the global tourism innovation ecosystem.
-Healing for People
-Healing fro Prosperity
-Healing for Destinations.
We encourage you to join us!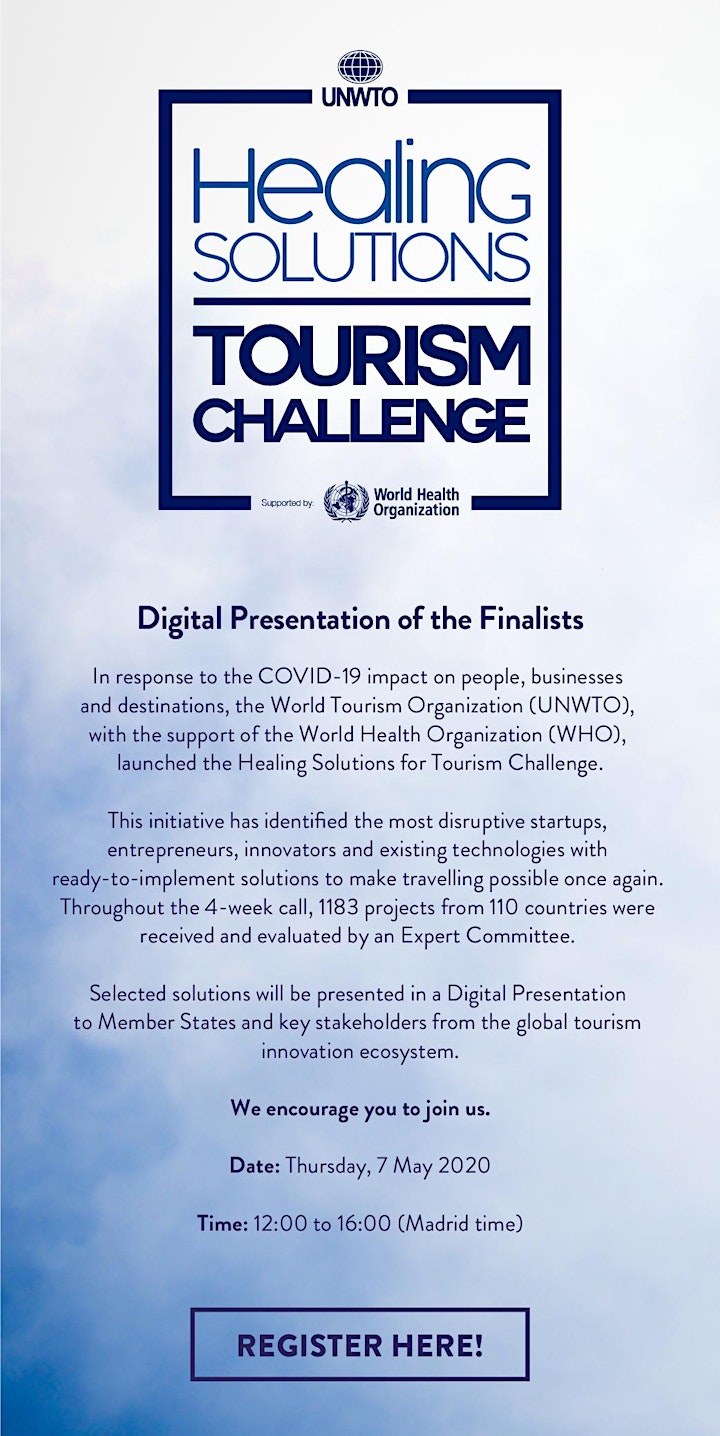 PRELIMINARY AGENDA
Welcome Remarks. Zurab Pololikashvili, Secretary General of the World Tourism Organization (UNWTO).
Beyond COVID-19. World Health Organization (WHO).
Why innovation is the new normal? Natalia Bayona, Senior Expert on Innovation, Digital Transformation and Investments, UNWTO.
Pitches round 1. Top solutions.
Hi+Health iCard a Tourism Data Driven Solutions (TDDS) and Air Institute project in collaboration with UNWTO. Javier Arredondo and Antonio López de Avila, Co-founders.
Pitches round 2. Top solutions.
Wrap up and next steps. Natalia Bayona, Senior Expert on Innovation, Digital Transformation and Investments, UNWTO.
Closing remarks. Zurab Pololikashvili, Secretary General of the World Tourism Organization (UNWTO).
HOW TO PARTICIPATE
UNWTO YouTube Channel for all people interested in attending this digital event.
Note for our Member States: Ministers will receive a personal communication with a special link.
Date(s) :
May 13, 2020 11:00 pm
By :
International Luxury Hotel Association
Luxury hotel owners, operators and asset managers have begun formulating strategies for the reopening and recovery of their hotels.

Will luxury hotels look different on the other side of this crisis?
What changes can we expect?
How is consumer behavior going to change?
How can operators respond?
How can we maintain or enhance profitability in the "new reality"?

Luxury hotel owners, operators and asset managers have begun formulating strategies for the reopening and recovery of their hotels. Will luxury hotels look different on the other side of this crisis? What changes can we expect? How is consumer behavior going to change? How can operators respond? How can we maintain or enhance profitability in the "new reality"?

Join the ILHA Northeast Chapter for this nationwide roundtable to hear insights from luxury hoteliers on how they are preparing for the reopening of their hotels and how they will manage the recovery process in a post COVID-19 era.
Date(s) :
May 7, 2020 9:00 pm
As you are making plans to reopen in the coming weeks or months, it will be critically important to be in tune with guests' expectations and feedback, even moreso than normal. To support the industry, we leveraged our existing mystery shop database to conduct research, gauging guest expectations as to the reopening of attractions due to COVID-19. We received over 2,000 responses from all over the US and Canada. We asked the following questions:
-How likely consumers are to visit different types of attractions
-If they are unlikely to visit, what is the primary reason they are reluctant to visit
-What measures would make them more comfortable when visiting (open response)
-What types of modifications they expect attractions to make (select options)
In this webinar, we will be presenting the results from the survey, and discussing which areas of the industry are likely to see higher demand, and which types of attractions will have more uphill challenges when it comes time to reopen. We will discuss the specific reasoning for guests' hesitations, and what you can do to help alleviate the hesitations, and restore confidence in your guests.
Lastly, we will share how Amusement Advantage is prepared to stand alongside our clients and the industry as a whole by providing additional resources to the hundreds of attractions who rely on our mystery shops to gauge guest perceptions to drive strategic operational improvements. We'll strive to do everything we can to help you and your guests RETURN TO FUN!
Date(s) :
April 30, 2020 4:00 pm
By :
Tripadvisor | Cornell's School of Hotel Administration
COVID-19 Webinar Series – Making Decisions in Challenging Times
Join speakers from Tripadvisor and Cornell's School of Hotel Administration for the latest session of our COVID-19 webinar series. In this presentation, you'll hear the latest data and trends from Tripadvisor as well as important frameworks about how to make decisions in the current, unprecedented environment.
Key Takeaways:  
The latest market data, expected phases of recovery and where we are within those phases.
Guidance for making decisions for your business now and moving forward.
Strategies for setting future rates and competitor sets as recovery approaches.
Date(s) :
May 11, 2020 5:00 pm
For :
Tours and Activities
Many companies are making mistakes in processing tour feedback. This is directly impacting the reputation and referrals of tour operators and OTAs. In today's event we look at how to optimize your feedback loop and grow your business. Reviews are THE seeds to referral and repeat business.
Featuring Sjannie Hulsman-Louwers, founder and President, EastGuidesWest.
Date(s) :
April 30, 2020 5:00 pm
What is the future of business? What new opportunities will we have the chance to seize?
The modern world is facing a test it has never faced before. The pandemic situation has posed social, political and economic challenges that will inevitably change the way we interact, cooperate and do business. Some markets have been hit hard by this situation, others have benefited from it.
Follow our live broadcast with Alexander Raiman, VP of Business Development at Daytrip, and Jan Hejny, CEO and Founder of Hoteltime Solutions, to find out what they think about the future of business, starting with travel and technology.
This is the first in a series of weekly webinars that will be presented by Daytrip to discuss and follow the evolution of business in the travel market. Follow us on our Linkedin page to stay updated!
Date(s) :
April 30, 2020 11:00 am
By :
Rate Tiger | Bedlinker | Book Online Now
With the changing scenario and uncertainty around the ultimate extent and duration of the COVID-19 outbreak, the travel industry is on its knees. However, like everything else, this too shall pass, and the industry will rebound.
Understanding the current situation and preparing for the recovery is key– decisions and strategies implemented now will impact the speed of recovery for your business once travel picks up again.
Join us to discuss how hotels and other travel businesses can stay buoyant and come out stronger when recovery starts.
In this webinar, we will discuss –
– Impact of COVID-19 on global travel
– Hotel revenue management – occupancy vs pricing
– Creating new source markets and optimizing distribution
– Direct booking and why staying close to guests is important
– Q&A – open platform for live discussion
We welcome everyone in this free webinar. Seats are limited and available on first come first serve basis.
Date(s) :
April 29, 2020 6:00 pm
For :
Tours and Activities
To address the current cash-flow hurdle facing many travel businesses, ATTA, in partnership with payment solutions company Flywire, has developed a free Financial Strategies and Tactics for Adventure Travel Businesses During Economic Uncertainty report. This webinar discusses timely and useful information for businesses to weather the economic storm induced by the current COVID-19 pandemic, and outlines safeguards to put in place to stand resilient in the face of future crises.
What will be covered:
COVID-19: Current Global Outlook
The Long View: Economic Recovery Scenarios
Financial Strategies and Tactics for Businesses During a Downturn
Beyond COVID-19: Building An Economically Resilient Adventure Operation
This webinar will be recorded and shared after. Registration is required.
---
Panelists
Date(s) :
April 23, 2020 6:00 pm
For :
Tours and Activities
Prepare for the Rebound: 4 Strategies to Increase Direct Bookings After a Crisis
We know travel will return, and the operators that use this downtime to learn and improve their online presence will rebound stronger than before. This webinar will focus on strategies you can implement now to help increase your direct bookings once travel returns. We'll show you how to get more bookings from your website by appealing to domestic markets, optimizing your online presence through social media and email marketing, and improving online conversion rates and search engine optimization.
Date(s) :
April 23, 2020 11:30 pm
Hosting in a Time of Uncertainty: COVID-19 and your Airbnb by HostGenius

About this Event

With the COVID-19 pandemic sweeping the globe and adversely affecting travel, Airbnb hosts are looking for new and unique ways to support their rental business. But what exactly is the best way to do this, while staying safe, and maintaining quality in which guests are booking your property?

Who is this for?

– Current Airbnb, VRBO, and Bookings.com hosts

– Hosts looking to get set up within the next 2-3 months

– And any others who are interested

Who are we?

HostGenius is a hassle-free short-term rental management company based in Vancouver and Whistler. In today's age, guests expect a hotel quality stay, including personal service, stocked amenities, and a sparkling clean home —something very difficult to keep up with when hosting multiple guests every week. With our hassle-free hosting, we'll take care of this for you while you watch your guests love the experience.
Date(s) :
April 23, 2020 3:00 pm
By :
Travelabs Online Events
How sustainability and CSR will help your tourism business recover quicker?

While coronavirus is devastating to the tourism industry, is there anything positive we can learn from it? Can this major crisis be beneficial for tourism in the long run?

Maybe I'm too optimistic, too opportunistic, or just insane, however, I see healing benefits coming from the global pandemic on the way people travel, and the tourism industry as a whole. I want to believe that we will get out of it more resilient, responsible and sustainable.

We are given once in a lifetime opportunity to pause, reflect reset. The actions we take now, will shape our image and business results after the pandemic.

In times of financial crises, no one expects companies to take extraordinary measures to help their many stakeholders. However, the bold and creative steps your organisation takes today to deliver immediate assistance, will define your legacy tomorrow.

This webinar will explore the importance of business' responsibility in the times of coronavirus, and why not is the best time to work on your company's sustainability strategy.

You will learn:
– What consumers expect of businesses during the pandemic
– How the pandemic will change the future of travel and customer behaviours
– Best practices from big and small companies
– The importance of "local" and "community" in your supply chain and product
– Why it's the time to reflect on your environmental footprint
– 3 key things you can do now that will help you recover quicker
About the speakers
Date(s) :
April 24, 2020 7:00 am
By :
Ngee Ann Polytechnic
This webinar forms a part of Ngee Ann Polytechnic's Business Transformation Series 2020 — a programme to enable professionals to learn on-the-go and learn on-demand.

The second webinar is by Dr Micheal Chiam on the use data analytics for the tourism sector.

During this webinar, you will learn:

Fundamental concepts of tourism analytics
Explore public domain databases that are relevant to the tourism industry for decision making
Gain hands-on experience using simple analytics tools and techniques to analyse historical tourism data for business insights.

It is a one-hour sharing session via Zoom and invitations will be sent to all registered guests 2 days before the event.
Date(s) :
April 23, 2020 3:00 pm
DIGITALISE YOUR TOURISM BUSINESS – NOW or NEVER ! The Problem solving webinar series by TIN MEDIA

About this Event

Travel Industry Network – TIN Media is organising – The Problem solving webinar series 1.0 DIGITALISE YOUR TOURISM BUSINESS – NOW or NEVER ! on Thursday, 23rd April 2020 at 8 PM.

The webinar is established with an aim to educate/support the tourism industry on how to cop up with the the Digital revolution for your business post COVID19.

Potential Participants :

If you are a part of the Tourism Industry, be it from sectors like the Airline, Hotels, Destination Management Companies, MICE, Tour operators, Travel associations, National Tourism organisations, Venues, Cruise, Technology & others you are welcome to join.

Participants :

1. Presanth Chandra , Co-Founder TIN MEDIA (Moderator)

2. Irvin Loo, Director -DIgital Marketing – Berjaya Hotels & Resorts (Speaker)

3. Jessica Koh – Director, The Traveller DMC – Malaysia & Singapore (Speaker)

4. Wind Tan – Digital Strategist. (Speaker)
Date(s) :
April 22, 2020 6:00 pm
For :
Tours and Activities
Virtual Tours have become the latest COVID-19 fad.
Is there really a business here?
Is it worth the investment in time and money?
Will consumers pay?
How do you do it?
Hear from four industry experts who are deeply engaged in the issues and we'll discuss today's landscape for virtual tours, the overlap with audio tours and what happens in a post-COVID-19 world.
---
Language : English
OPEN TO : Everyone
Dial-in ID Number : 373716#
Dial-in Passcode : 8548#
Date(s) :
April 22, 2020 6:00 pm
Price :
On a pay-what-you-want basis
As destinations are working to quickly chart the best way forward, they face a conundrum: letting the awareness of a destination fall to zero during a crisis is a huge risk, but launching a tourism campaign can easily seem tone-deaf. With Travel's Path Forward: Destinations and Marketing, Skift editors and research analysts, along with leaders in tourism, including destination marketers, advisors, and suppliers, will explore the state of destinations today.
What You'll Learn
Resilience: How are Destinations Preparing Now a Post-Coronavirus Rebound?
How Might the Virus Change the Preferences and Needs of Future Travelers?
What Marketing Approaches Can Be Taken Now, and When Might Past Strategies Return?
Are Shifts in Supplier Policies Having an Effect for Projected Late 2020 / Early 2021 Rebound?
When Travel Does Return, How can Destinations Jump on Pent-up Demand?
Date(s) :
April 22, 2020 6:00 pm
By :
Wayaj | Sustainable Hospitality in Progress
COVID-19 is undoubtedly changing the way in which we operate Hotels moving forward. Guests expectations might be higher for you to provide measures to illustrate your hotel's sustainability and provisions for a healthier stay on their next trip. Wayaj's team includes hoteliers and engineers who understand the value and importance of adapting to the times we live in and have a deep appreciation of the efforts that your Hotel will need to put into rebuilding confidence in the customer experience.
To help you learn more on how to prepare for your guests new expectations, we have designed a free webinar led by speakers Logan Cohen, LEED AP, ENV SP Wayaj, and Maribel Esparcia Pérez, European Sustainable Hospitality Club Founding Partner. They will address how to return to a successful business and focus on health and sanitary practices that will achieve that goal while minimizing their impact on the planet.
In this webinar you will learn:
Scenario planning; the opportunity to implement changes in risk assessment and management facing environmental and social challenges
How to better prepare our buildings to slow the spread of future viruses
How virus spread in indoor spaces
Best practices for cleaning staff
Best practices for guest sanitation
Optimal ventilation and filtration, temperature and humidity and innovations to achieve healthy buildings in a sustainable way
This webinar is part of Sustainable Hospitality in Progress, a new initiative promoted by Wayaj to encourage the adoption of sustainable practices throughout the hospitality industry, by fostering learning and communication among the industry professionals.
---
Webinar: Healthy Hotel, Healthy Business. Preparing Your Property for Business After COVID-19 is organized by Wayaj, Inc.
Wayaj is a sustainable travel platform designed to provide tools and information to help travelers and travel operators make better choices in the fight against the current climate emergency. Founded in 2017, it lists more than 400 earth-friendly hotels worldwide.
Date(s) :
April 23, 2020 6:00 pm
For :
Hotels, Tours and Activities, Travel Agencies
Phocuswright surveyed travelers from the U.S., the U.K., France and Germany to understand traveler sentiment during the coronavirus pandemic and early indicators on travel intent post-pandemic.
The survey included questions about how travelers' plans have been impacted, their satisfaction with companies when changing their travel plans, considerations for future travel, and more.
On April 23, Phocuswright will present the full findings and insights into the implications for the global travel industry.
This event will give viewers a direct feel for consumer intent, coupled with analysis from our seasoned researchers.
In this presentation, you will:
Understand how travel plans changed in response to COVID-19.
Discover why travelers' made the changes.
Know the outlook and optimism travelers have for recovery.
See the confidence travelers' have in their government's travel restrictions.
and more.
Presenter:
Madeline List, research analyst at Phocuswright.
Date(s) :
April 21, 2020 6:00 pm
For :
Tours and Activities
Once the COVID-lockdown is eased, it will still be some time before travel is truly unrestricted. That means demand for local, nearby tours and experiences will return first. Operators need to be ready, and for those that have long relied primarily on long-haul travel, this means rewriting their usual marketing playbook.
This Arival Online event will help you do just that, by digging into key tactics and best practices for reaching local experience seekers as the global travel economy recovers.
Marica Brewster | CEO, Von Mack Agency
Douglas Quinby | CEO, Arival
Language : English
OPEN TO : Everyone
Dial-in ID Number : 834950#
Dial-in Passcode : 4375#
Date(s) :
April 19, 2020 12:00 pm
By :
EHL Ecole hôtelière de Lausanne
For :
Hospitality Professionals, Hotel Owners
[Course Availability: 1-30 April 2020]

A free, online 2-hour course designed for hospitality professionals, hotel owners or anyone in adjacent industries affected by the current situation.

Essentials of Managing Underperforming Properties

This online course is designed for you to develop an understanding of managing and implementing turnarounds. We will go through the different decline stages of a company, provide you with a toolbox to manage as well as implement turnarounds, and introduce you to the leadership challenges during crisis and turnaround implementation.

 Course content

Chapter 1
The Model of Decline
Stage 1: Blinded
Stage 2: Inaction
Stage 3: Faulty action
Stage 4: Crisis
Stage 5: Dissolution
Do you want to receive your Tourism
Red
pills in your inbox?
Just enter your email address & your business sector and you will receive a custom email in your inbox with webinars and classes in fields you care about as soon they are found by our team!